Steve and Kim Puffpaff
Missionaries to Suriname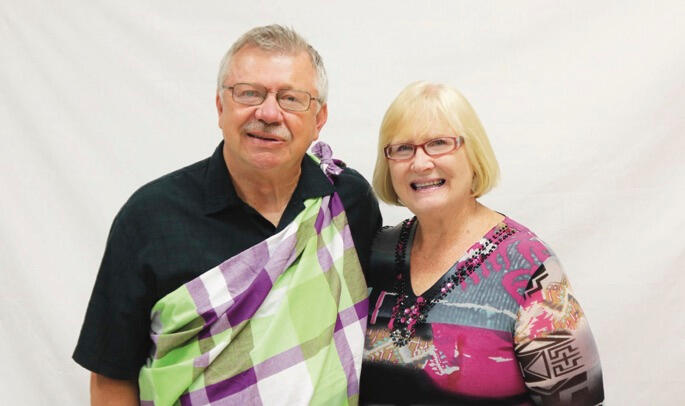 Steve and Kim Puffpaff have been missionaries in the Caribbean Region for 30 years. They spent 24 years in Jamaica; planting churches, helped establish Teen Challenge and established the City of Refuge Children's home.
We are now working primarily with churches in Suriname, helping to equip local leaders to reach unreached people groups.
As the former Caribbean Area Director with the Assemblies of God World Missions for 13 years, I had the privilege of ministering alongside Steve and Kim Puffpaff in the English speaking Caribbean. I fully endorse their ministry of compassion, church planting and evangelism in this diverse area of the world. Steve and Kim have continued to expand their understanding and outreach to the various Caribbean countries. Please give them every consideration in your love, prayers and support.-Dale Coad, Caribbean MinistriesSteve and Kim Puffpaff are respected missionaries in our region. They have earned the deep respect of the nations of the Caribbean where they travel to prepare ministers and leaders. They are godly people that minister with authority and Holy Spirit empowerment. We know that you will be blessed by them as much as is the Latin America Caribbean Region.-David Ellis, Regional Director, Latin America Caribbean, Assemblies of God World MissionsThe Assemblies of God Suriname recommends Dr. Steve Puffpaff and his wife Kim for ministry in the Caribbean region. We have experienced Dr. Steve as a great teacher and leader who has a tremendous heart for reaching souls. We would love to have them come to our country Suriname to equip our leaders and participate in missionary work.-Rev. Irving Chin-Sie-Jen
Within the Caribbean Region, there are 3 countries where over 40% of the population are either Hindu or Muslim. Two of these Caribbean countries have unreached people groups; Suriname and Guyana with Suriname having 14 unreached people groups.One of the most exciting aspects of our ministry is coming along side of our students in their church planting projects. One such projects is helping Sherry Ann Griffith, plant the first church with an unreached people group called "The Saramaccan." They are the descendants of Africans brought to the Americas as slaves. They escaped their captivity and went deep into the jungle and returned to living as they did in Africa. Today, they are Animists with their cultures totally based on Divination.I have been able to minister to the Saramaccan people in the jungle of Suriname. As usual, the children are the most receptive to the gospel. Jesus said, "suffer the little children to come unto me and forbid them not, for such is the Kingdom of God."We also are helping plant a church among an unreached people group called the Akan People in the village of Lebi Doti and Bakku. God is transforming these villages from Animism living free by the power of the Gospel of Jesus Christ.PRAY WITH US
Pray that God will raise up Spirit-empowered leaders in the Caribbean region to reach all of the people in their countries with the Gospel of Jesus Christ through church Planting, Evangelism and missions.Pray for the finances ( cash and monthly pledges) to be raised that we can accomplish the ministry of training and mentoring leaders in the Caribbean Region.Pray for the completion of Church buildings in the villages of Lebi Doti and Baku among the "Akan" (unreached people group).Pray that the 50 villages of the Saramaccan (UPG), along the Suriname River in Suriname will be reached with the gospel.
Get In Touch
PARTNER WITH US
To join in support with giving, please go here: s1.ag.org/givetothepuffpaffsCONTACT
Our current contact information is here.VIDEO RESOURCE
To download a copy of our update video, please go here.
---
© All rights reserved.